Celebrate Mothers Day

!
Let's Make Some Unique Cards

| | | |
| --- | --- | --- |
| Mothers Day is celebrated on the 2nd week of May in Singapore; like the United States. Have you any idea how you can make it special for that very important woman in your life? | | Click on any of the images below to see a gallery of cards on this page. |
Mother's Day is a day for us to honor our mothers. Our mom has brought us up despite much hardship. She has influenced us in her unique way.
Many sons of mothers still consciously or unconsciously compare their wives with their mothers :-)
It's also a day to celebrate motherhood. So I'm dedicating this page to all mothers.
May you be a Godly influence to your children; nurturing, teaching and bringing them up to impact the world for good.
The good Lord bless you. May He grants you the wisdom to guide your charge in the way he or she should go.
May He supplies you with the resources needed to do your task each day.
May He watches over you and your household day and night and guards you against all harms.
May all who knows you called you blessed.
Happy Mother's Day Card #1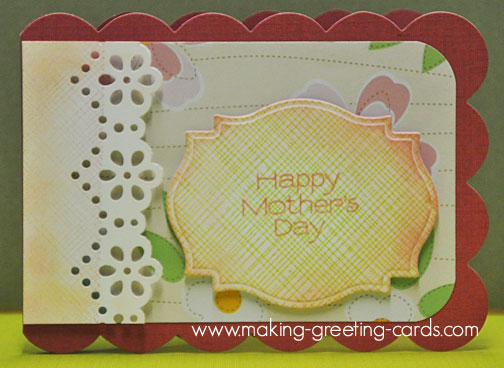 The above is made using a scalloped card die on the Quickutz die cutting machine. I love this die so much that I use it again and again. I even cut a whole stack of card blanks so that when I need to quickly make a greeting card, I'm can easily make one with them.

Card Making Supplies Used:
burgundy color blank folded scalloped card
scrapbooking designer paper 3.5" x 5.5"
white card for lace border and frame
memento ink pad: bamboo leaves, tangelo
versafine ink pad: toffee
versa magic ink pad: pink petunia
spellbinder frame die
big shot machine
martha stewart's flower border punch
hero arts clear stamp: Happy Mother's Day
hero arts wood mounted rubber stamp: envelope pattern
corner rounder
glue
double-sided foam tape
sponge or dauber
bone folder
scoring pad
Card Making Instructions:
Die cut the burgundy cardstock with the scalloped card die on the Big Shot die-cutting machine.
Score, fold and crease with bone folder.
Punch corners of 3.5" x 5.5" white card on the right.
Glue scrapbooking designer paper to scalloped card front flush with the left at fold.
Punch lace border and cut lace strip to 3.5" length.
Sponge toffee color ink and dab onto the lace border. (refer to the card photo above)
Use double-sided foam tape to attached to the left on top of the scrapbooking paper.
Die cut and emboss white card using the Spellbinder's frame.
Ink envelope pattern stamp with bamboo leaves ink and stamp on embossed die cut frame.
Sponge toffee color ink and dab onto the die cut frame.
Sponge pink petunia ink and dab on corners of die cut frame.
Ink Hero Arts message stamp with tangelo ink color and stamp into the centre of die cut frame.
Attach die cut frame to scalloped card front with double-sided foam tape.
Happy Mother's Day Card #2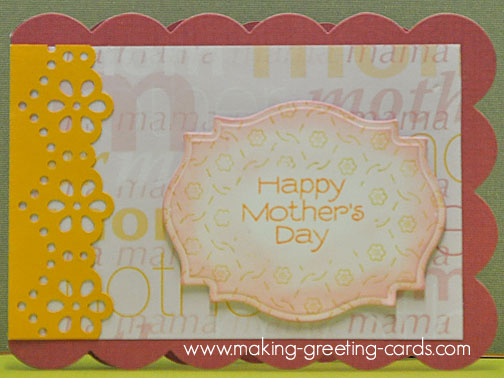 Here's another one but using a different mother's day theme scrapbooking paper and a orange punched lace border.
The heart of a mother
is a deep abyss 
at the bottom of which
you will always find forgiveness.
Happy Mothers Day Card #3

Here's the third mothers day card I created with the same scalloped design. The only difference here is using the envelope pattern background stamp on the lace border and frame.
Now you can see why I said that I love this scalloped die.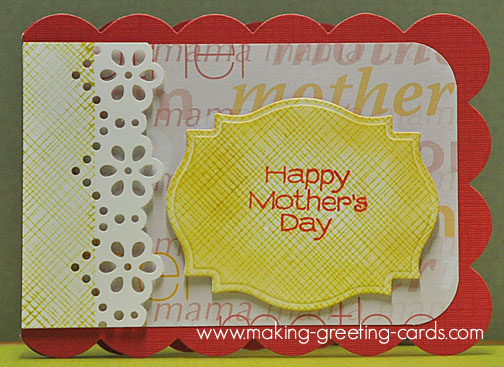 More Mother's Cards & Tags

Quotes and Poems for Mom
Ask not what your mother can do for you.
Ask what you can do for your mother.
Making Greeting Cards!

›
Mother's day Cards
› Celebrate Mother's Day!
Like This Site?
Celebrating Creativity! Connecting Lives!
~ bringing cheer one card at a time.
Help Me Get The Word Out

If you like making greeting cards and want to encourage others to do so because of its many benefits, please help me share this website with your friends. Just click on the share buttons below to share with your fans and friends. Thank you for sharing the good things in life :-)