Papercutting Technique
Papercutting using the Chinese character for spring 春 (chūn) is easy to cut.
Spring 春 (chūn) - This is the character that you will see everywhere during Chinese New Year; on paper bags, red packets (Ang Pow), Chinese New Year's decorations around the house, along the streets, in the shops and even in the office in Singapore.
Nowadays, papercutting can be purchased easily everywhere. Some are even printed on sticker paper so that you can easily peel out and stick it on any surface. But I love the excitement and anticipation of the season created by spending time cutting out characters like blessing (福), spring (春), and full (满).
I remember the days before Chinese New Year when my grandmother was still alive. We would spend long period of time cutting out the different good meaning Chinese characters on specially bought red paper, applying glue and pasting on the doors, rice-container, vases, presents, etc.
It was so much fun and as a child, I found the whole preparation entertaining and building up momentum and excitement to the New Year's celebration.
Papercutting Step By Step
Right click and save the above image to your desktop.
Open your Microsoft Word program and create a new document file.
Paste the above image file into your document.
Highlight the image and copy and paste multiple copies into your document.
Leave enough space on the right side of image for folding.
Resize if you like them bigger or smaller.
Print on back side of red color paper or pattern paper of your choice.(Gold paper will also look great)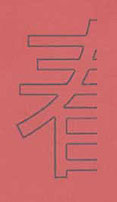 Paper-cutting 1
8. Fold the printed paper. (Refer to the picture below)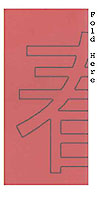 Fold line
9. Use a small sharp scissors to cut on the printed line.

Cutout
10. Open out and voila! Your Chinese New Year papercutting on the word 'SPRING". Ha! You are holding spring in your hand.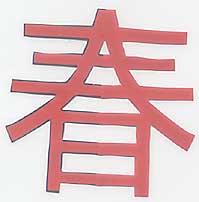 Finished Word
Where To Use These Papercutting?
on your homemade Chinese New Year cards,
punch a hole on the top, thread it and use as decorations for your spring tree. (Just like you hang ornaments on your Christmas tree)
paste on gift bags
---
Making Greeting Cards!

›
Chinese Greeting Cards
Cutting Chinese Word 'Spring'
Like This Site?
Celebrating Creativity! Connecting Lives!
~ bringing cheer one card at a time.
Help Me Get The Word Out

If you like making greeting cards and want to encourage others to do so because of its many benefits, please help me share this website with your friends. Just click on the share buttons below to share with your fans and friends. Thank you for sharing the good things in life :-)