Spring Cards In Celebration of Spring
Make spring cards for spring is here! It calls for some spring greeting cards to be created and sent. It's the time to celebrate and enjoy the wonderful weather of spring. Flowers, dragonflies, and butterflies can be seen all over the place.
Let's bring out our garden theme rubber stamps and cliparts and start making spring greeting cards to send to friends all over the world.
I have some of these handmade cards listed below:
Just click on the picture of each card and you will be able to view the supplies and step by step instructions for making each of these spring homemade cards.
You will notice that in most of these cards, I used mainly pink and sky blue as the color theme. Well, the color of spring is beautiful; lilac, sage, pink, sky blue, buttercup yellow and so much more. I just love the color of spring. I think it's the season when I'm most happy although I love the other seasons too. But spring is special.
So let's enjoy spring and spread the happy spirit of spring far and wide with our handmade spring greeting cards.
Spring Cards
Friendship Card
This is a fairly simple flower card using only one small flower stamp; a Japanese rubber stamp of a sakura flower and a message stamp with beautiful friendship words; 'blossom by blossom friendship begins.'
To read instructions and learn how I made this Japanese styled greeting card, click here.
Spring Tag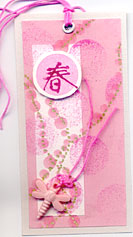 Spring Tag
A pink tag with dragonfly embellishment and dots created using markers.
To read instructions and learn how to make this card for a child, click here.
Butterfly Dream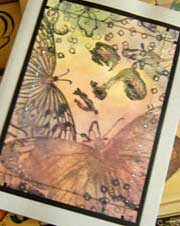 Butterfly Dream Card
I called this handmade card, "Butterfly Dream". Well, it's a card I created just for fun one fine spring afternoon.
To read instructions for this card, click here.
Color of Spring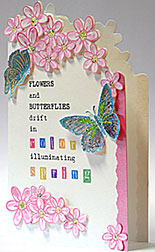 Color of Spring
Here's a 'Color of Spring'; a handmade card that you can make. to celebrate this wonderful season.  A pdf file for the color of spring verse is included.
To read instructions for this card, click here.
A Color of Spring's Verse
Flowers and butterflies drift in color illuminating spring.
More cards for the spring season will be added here. So do check back often.
---
Making Greeting Cards!

›
Card-making Projects
› Cards in Celebration of Spring
Like This Site?
Celebrating Creativity! Connecting Lives!
~ bringing cheer one card at a time.
Help Me Get The Word Out

If you like making greeting cards and want to encourage others to do so because of its many benefits, please help me share this website with your friends. Just click on the share buttons below to share with your fans and friends. Thank you for sharing the good things in life :-)