Say Thank You Very Much With This Card
A handmade thank you card to say "Thank You Very Much" to your boss for giving you a salary raise or a girlfriend who remembered your birthday.
Or make and send it to someone who's always there for you. What about to your mom just to let her know that you appreciate her?
We really need to be making more handmade cards to express our gratitude to those who are there for us or those who shown kindness in many ways in our lives. Why not make a whole batch of Thank You greeting cards and send them out to let them know how much we appreciate them? 
There's no need to make cards with complex design. Rather make some simple cards at one sitting. 
Below is one card design I created which is real easy to make. The photo did not come out too well but in reality, it's quite a pretty card. :-)
Tips: Don't have the same rubber stamp? Use another floral image stamp instead.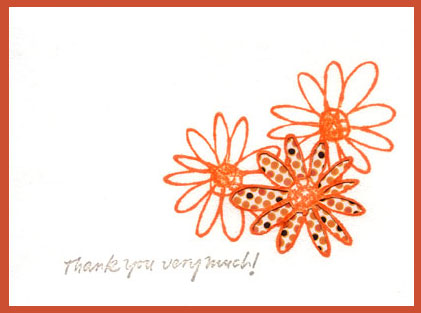 Thank You Very Much
Card Making Supplies for Thank You Very Much Card
White Cardstock

Dark Orange Blank Card
Rubber Stamps: Daisy Bloom and thank you message by Hero Arts
Orange color designer paper
Orange color pigment inkpad
Grey color pigment inkpad
Scissors
Glue

Card Making Instructions :
Tips: Use any suitable pattern paper, e.g. a magazine cutout, instead of the designer paper.
Ink the Daisy Bloom rubber stamp with the orange colour inkpad and stamp the three flowers on the white cardstock.(refer to photo above for position)

Ink the message stamp with the grey inkpad and stamp on the left of the three flowers.

Use a small pair of sharp scissors to snip inside the centre flower and cut inside the stamped outline.

Layer the white cardstock over the orange designer paper. (You can just cut a circle larger than the flower image and glue it behind the cut flower)

Layer over the dark orange card blank.
Simple right? Just 4 steps of directions :-)
Let's make them and send out to express our thanks to those who care, encouraged and supported us especially those in our time of need.
It's never too much to say thank you. 
Click here to view more simple Thank You Cards.
Gratitude Quotes
"Feeling gratitude and not expressing it is like wrapping a present and not giving it."    --

William Arthur Ward



"At times, our own light goes out and is rekindled by a spark from another person. Each of us has cause to think with deep gratitude of those who have lighted the flame within us."  -- Albert Schweitzer

"Silent gratitude isn't very much to anyone."   --Gertrude Stein

---
Making Greeting Cards!

›
Thank You Cards
› Here
Like This Site?
Celebrating Creativity! Connecting Lives!
~ bringing cheer one card at a time.
Help Me Get The Word Out

If you like making greeting cards and want to encourage others to do so because of its many benefits, please help me share this website with your friends. Just click on the share buttons below to share with your fans and friends. Thank you for sharing the good things in life :-)