Vintage Butterfly Card
create with Tim Holtz stamps
and distress inks
for that antique aged look
| | | |
| --- | --- | --- |
| This vintage butterfly card is my take on an antique aged look card using Tim Holtz's so artistic rubber stamps and his signature Distress inks. | | Click on any of the images below to see a gallery of cards on this page. |
I love vintage and prints.
- Georgina Chapman
  (English fashion designer/actress)
I have been a fan of his books and products for quite some time and whenever possible will indulge myself making some artistic cards just for the sheer fun of creating.
Vintage Butterfly Card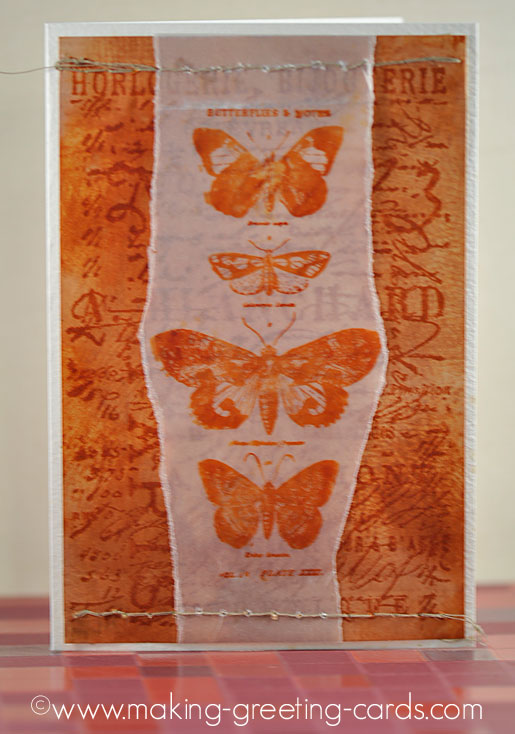 The above handmade card also spotted two rows of stitches on the top and at the bottom using We'R Sew Easy tools; the stitch used here is the backstitch.  
Supplies for this Vintage Butterfly Card
Directions for Vintage Butterfly Card
Score and fold watercolor paper at centre to make a blank card.

Ink blending applicator with distress ink - tea dye color and apply with circular motion on cream color cardstock.

Dry with heat gun. (Put aside to dry if you do not want to use a heat gun)

Ink blending applicator with distress ink - rusty hinge and apply with circular motion on some portions of card.

Dry with heat gun.

Place lace over card and ink blending applicator with same rusty hinge ink and tap or rub over lace.

Ink the background image with rusty hinge ink and stamp on card to complete the background card.

Ink stamp with the four butterflies and stamp onto vellum with same rusty hinge ink.

Dry with heat gun.

Tear vellum on both sides of the stamped butterflies.

Place vellum over centre of background card, then slip under the Sew Easy ruler, align and use the backstitch piercer to pierce running holes along the top and bottom of the vellum and card.

Thread needle and sew.

Fold vellum top and bottom flaps over and beneath the card

Run adhesive over the underside of card and adhere to the folded card front.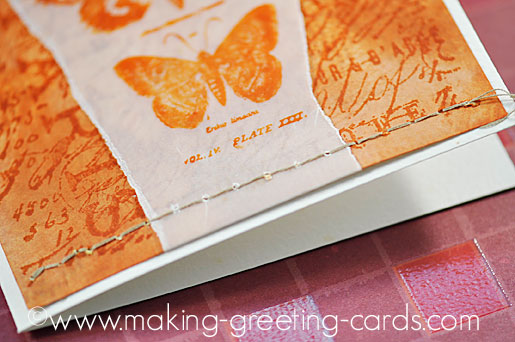 Vintage Quotes
There's a vintage which comes with age and experience.
- Jon Bon Jovi 
I love vintage shopping, I think it's really fun. And I love the feeling of finding the most amazing piece for less.
- Emma Roberts 
If I have an hour in a city, I go to vintage stores first because it's so much cooler to find a piece that is unique. I love the thought of some girl having worn it before and living her life in it.
- Helena Christensen 
My most cherished possessions are my grandma's letters and my vintage Martha Washington cookbook.
- Sandra Lee 
Like This Site?
Celebrating Creativity! Connecting Lives!
~ bringing cheer one card at a time.
Help Me Get The Word Out

If you like making greeting cards and want to encourage others to do so because of its many benefits, please help me share this website with your friends. Just click on the share buttons below to share with your fans and friends. Thank you for sharing the good things in life :-)