Handmade Happy Birthday Cards Ideas. Let Your Creativity Takes Wing!
Be Creative! Let these birthday cards ideas inspire you to try something different.

Make a birthday card that is a complete surprise to the person you sent it to. Let's make some fun birthday cards. I hope that the following birthday card samples will help you create some happy birtyday greeting cards that are totally fun to receive.
Birthday cards ideas here feature not just my cards but handmade cards by other cardmakers.

Birthday Cards Ideas
Below are some handmade birthday cards created by readers and myself. Hope these homemade creations will give you some birthday cards ideas for your own card making. 

Live Your Dream! Card
Prepare pale pink card blank. Ink word stamp "Live Your Dream" with black ink and stamp on left top of card.
On vellum paper, stamp the dress rubber stamp image with Versamark Ink.
Heat embossed with red tinsel powder.
Color the back of vellum with markers.
Trim close to the stamped image leaving the shoulders strips long.
Blend wire to make hanger.
Attach dress to hanger with glue applied to the extended shoulder strips.
Flower Petals Happy Birthday Card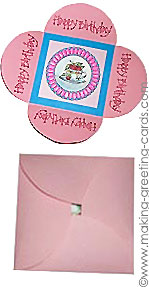 Trace petal envelope design onto pink cardstock and cut out.
Draw spirograph design onto white cardstock and stamp tea cup image in the centre.
Colour and cut out.
Stamp another tea cup image onto white cardstock. colour, cut out and paste on top of tea cup image on spirograph centre with foam tape to give 3D effect.
Mount onto blue and pink squares and paste into centre of petal envelope.
Stamp "Happy Birthday" on four sides.
Alternate fold flaps and slip last flap into first.
Stamp Credits: Mary Engelbreit Rubber Stamps, All Night Media Rubber Stamps / Penny Black Rubber Stamps

Birthday Card by: Georgia from Cyprus
Kid's Happy Birthday Card by: Shalini Maskara (New Delhi, India)
Shalini's Instructions On How To Make This Kid's Happy Birthday Card:
Stamp the image using the forever friends stamp.
Colour in using stroke markers.
Cut out the sheet and stick onto a gingham checked sheet.
Cut out further and mount onto a patterned sheet stuck on a card sheet.
Add a birthday hat and cake embellishment and viola.
Add your personal message and you are ready to roll...
Eat Cake by: Meg Perrino, (Surfside Beach, SC US)
Happy Birthday by: Shera (Greensburg, Indiana)
I hope to add more birthday cards ideas to this page so do bookmark this page or subscribe to my e-newsletter to get the updates. Or you can head over to my Birthday site for more ideas
Useful Cardmaking Tips
Clean clear stamp immediately with dish washing detergent after use. For stubborn stain, use a dish cloth to rub off the ink stains.
Use clear embossing powder on colored stamped images. If you missed any stray powder, it's not noticeble. 
Click here to read more card making tips.
---
Like This Site?
Celebrating Creativity! Connecting Lives!
~ bringing cheer one card at a time.
Help Me Get The Word Out

If you like making greeting cards and want to encourage others to do so because of its many benefits, please help me share this website with your friends. Just click on the share buttons below to share with your fans and friends. Thank you for sharing the good things in life :-)