Kids Birthday Cards You Can Make With Your Children
Kids Birthday Cards - Use toys and rubber stamps to make birthday cards for kids. You and your children will enjoy making them.
Below are cards that I made myself but I believe that with supervision, your children can easily make them too.
The above child birthday card was created using two Magnolia rubber stamp images and a birthday greeting. I first stamped all the images on 140 lb. Daler-Rowney Fine Grain Cold Pressed watercolour paper.
Watercolour the images and trim around them.
On another piece of the same type of watercolour paper, used a small brush to draw stripes of the lightest shade of green and yellow for the lower half of the card front to create the fence. Glue onto the bottom part of the card front.
Glue the lace and roses above this at the top to create a fence.
Glue the little girl over the fence with her elbows just above the fence to give the illusion of her leaning over the fence to offer a heart.
Glue the Happy Birthday to You greeting - centring on the fence. Please refer to the birthday card image above.
Kids Birthday Cards for Kids
Here's a couple of Splash Paint With Rubber Stamp Cards
How did I ever imagine this? Yesterday I went into a toy store looking for gifts for my nieces and nephew. And I found this: Splash Paint. I thought it may bring the children some creative fun this Sunday when they visit me. What a surprise! I tried it out when I got home. 

See what I created with it - Splash Paint Cards!

Splash Paint Frog Card
I use the Splash Paint equipment to splash green and yellow paints on a square white card. Punch the four corners and thread with black metallic thread. Mount it on a green splatter paper. Stamp frog image on white cardstock and color. Cut it out and mount onto the splash paint background. Then attach to a white basic blank card.
Stamp Used: Argentine Horned Frog from Frogs Rubber Stamp Collection by All Night Media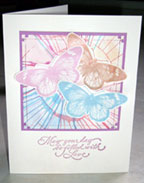 Butterflies Splash Paint Card
Stamp 3 butterflies with Brilliance ink. Cut them out and mount onto splash paint background card. Layer on violet card-stocks. Attach to white basic blank card. Then stamp "May Your Day Be Filled With Love" on bottom of card.
Stamps Used: May Your Day Be Filled With Love - Penny Black / Butterfly - Unknown
More Birthday Cards
Check on my Oh Happy Birthday website for more birthday cards for kids and for all ages.
---
Like This Site?
Celebrating Creativity! Connecting Lives!
~ bringing cheer one card at a time.
Help Me Get The Word Out

If you like making greeting cards and want to encourage others to do so because of its many benefits, please help me share this website with your friends. Just click on the share buttons below to share with your fans and friends. Thank you for sharing the good things in life :-)