Greeting Cards Blog Dec 2004
Read my Greeting Cards Blog Dec 2004 and see what I'm doing during this busy month. Also contain updates to this card making website.
31st December 2004 (Friday 18:34pm - Malay Peninsula Standard Time)
My Last Post for 2004!
Well, it's around dinner time here in Singapore. It has been a rather cold and wet day today. Even now, I have to close all my windows because the wind is strong and blowing in the rain. Great weather for sleeping. Well, I intend to stay up tonight to welcome in 2005. Guess this will be my last post here for 2004. So to all of you - my card-crafting friends - Happy New Year! And let's meet again here in January 2005. Come Monday and I will be preparing the next GreetingNews! Ezine. Hope to reach your mailbox before the 7th of January. So if you have not sign up yet, please do so now. Love to connect with you. Once again, HAPPY NEW YEAR!

Flora 
---
29th December 2004 (Wednesday 14:19pm - Malay Peninsula Standard Time)
Belinda's Card & Bookmarks!
Two days ago, Belinda visited me with her mommy. We had a great time making a card for her mommy and lots of bookmarks for all the subjects she will be taking in 2005. To see Belinda's card and bookmarks, click here.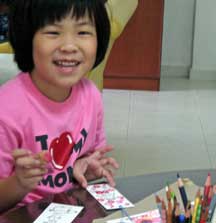 Happy Girl!
---
28th December 2004 (Tuesday 19:05pm - Malay Peninsula Standard Time
I'm Fine!
I like to let all of you know that I'm okay. Thank you for your concern and emails. I live in Singapore and fortunately we are not affected by the quakes. It is a sad thing to watch the news and see what's happening in the affected regions though. 
---
24th December 2004 (Friday 03:23am - Malay Peninsula Standard Time)
Soon It Will Be Christmas Day!
I sent out many cards to oversea friends this Christmas season. Waiting to hear if they received the cards. Yesterday and the day before, Maria, Jenny and Celin came to visit. We had great fun making more than a hundred greeting cards and another hundred plus bookmarks. All hand-stamped arts. I will be uploading some of them to this website in the next few days.

---
17th December 2004 (Friday 14:56pm - Malay Peninsula Standard Time)
Card Verses
I have just added a few pages of verses for your homemade cards. One of them is a page of Christmas Cards' Verses. These are for you who are frantically making your Christmas cards at the last minute. :~D  Ho! Ho! Ho! Happy Cardmaking! 
---
17th December 2004 (Friday 11:54am - Malay Peninsula Standard Time)
More About RSS
RSS is very useful to all of us. All we need is to get a RSS Reader and add the feed from any site we love to get updates from. And whenever that site is updated, we will automatically be informed. We just need to read the headlines from the RSS feeds within our RSS Reader.
If it is something that is of interest to us, then we click on the link to visit the site. Isn't that cool?
No more wasting time browsing a site to see if there's anything new. What does this means? Simply that we are in control - we only visit the site when the content is of interest and beneficial to us. For example, when I have RSS on my site, and you add my site to your feeds. Whenever I add another page or update certain page on my site, you will received in your RSS Reader, the headline with the first one or two sentences from my page. If I'm talking about Children Greeting Cards and you do not need that information, well, you just go to the next feed. I will share with you more about RSS feeds and where to download a free RSS READER on my next post on this blog. If you have query or information that will help us understand this whole RSS thing, please do contact me and I will add that to this thread of blogs.
---
16th December 2004 (Thursday 14:10pm - Malay Peninsula Standard Time)
RSS Coming Soon!
I'm waiting for Site Built It, my web host to enable me to easily build RSS into my whole website. Another alternative would be to do it manually myself. Well, I have decided to wait for SBI to implement it. No hurry!
---
16th December 2004 (Thursday 02:10am - Malay Peninsula Standard Time)
Chocolate Cards!
Chocolate break! So I surf the net to look for chocolate and I found Chocolate Cards at Hersheys. Wow! I love the thick Thank You Cards. Well, just have to be satisfied with my Toblerone.
---
16th December 2004 (Thursday 01:36am - Malay Peninsula Standard Time)
Great Shopping Day!
I went to meet some friends for dinner and because I was too early, I went to Kinokuniya with no intention to buy anything. Well, I bought lots of rubber stamps. :~D Compared with those I had, these are really good buys. S$4.50 per rubber stamp. Made in Malaysia. That's what the demonstrator told me.
---
10th December 2004 (Friday 21:28pm - Malay Peninsula Standard Time)
Wedding Congratulation Card
Just created a Wedding Cards page and uploaded a Wedding Congratulation Card to it.
Feel good doing that! Have not been doing much on the site due to my workload. Well...not really all because of my workload. I have been watching the box too much each evening - CSI, Law & Order, etc. Will have to cut down on that.
---
3rd December 2004 (Friday 20:38pm - Malay Peninsula Standard Time)
Important!
Filtering software may prevent you from receiving the GreetingNews! Ezine.
To ensure that you never miss an issue from me, please follow this tip...
To make sure that GreetingNews! is not deleted or filtered into a "junk" or "bulk" folder, please add the following domain to your list of trusted senders/your address book/contact list (in your e-mail software) and to your ISP/mail service's whitelist... 
*@making-greeting-cards.com 

Thank you
---
3rd December 2004 (Friday 20:18pm - Malay Peninsula Standard Time)
GreetingNews! #001, the first ezine issue from www.making-greeting-cards.com has been mailed out today. The next one will go out on the first week of January 2005
---
2nd December 2004 (Thursday 01:22am - Malay Peninsula Standard Time)
Yesterday I went downtown to shop and visited many card-stands. I noticed that there are many square Christmas cards on display. So ... does this means that square card is in? Look like it. Interesting!
---
Making Greeting Cards!

›
Card-making Blog
› Here
Like This Site?
Celebrating Creativity! Connecting Lives!
~ bringing cheer one card at a time.
Help Me Get The Word Out

If you like making greeting cards and want to encourage others to do so because of its many benefits, please help me share this website with your friends. Just click on the share buttons below to share with your fans and friends. Thank you for sharing the good things in life :-)
To Top  Greeting Cards Blog Dec 2004