Bright Origami Christmas Tree Card - Template Provided

Make this origami Christmas tree card using double side printed scrapbooking paper. I used Mykonos 8"x8" 2-sided paper from 7 Gypsies'.
This isn't their Christmas collection but I chose to use it because I like the playful prints and the red and green color combination.
The background paper is from Cosmo Cricket - Social Club. I love the simple lined design and also the light washed out yellow color which kind of make the origami tree pops.
Card Making Supplies Used for Origami Christmas Tree Card
white color cardstock 8.25" x 5.75"
cosmo cricket - social club patterned paper 3.75" x 5.5"
7 gypsies - mykonos 2-sided patterned paper
off-white color scrap cardstock
paper trimmer or scissors
black color ink pad
jim holtz distress ink pad by ranger - aged mahogany color
jim hotz distress ink pad by ranger - scattered straw color
memento ink pade by for lasting impressions - cantaloupe color
penny black's rubber stamp - merry christmas message
star embellishment
white color pencil
corner rounder - 1/4"
double sided foam tape
dauber
glue
Card Making Instructions
score and fold white colour card stock to make a blank 4.125" x 5.75" folded card
use dauber inked with aged mahogany ink to colour around the edges of front of white folded card.
use corner rounder to round off the four corners of white folded card as well as the lined yellow print paper.
paste lined yellow paper on front of white card.
daub memento - cantaloupe colour ink on top of yellow lined paper at the center.
daub scattered straw colour ink around the cantaloupe color.
go over with white colour pencil to form rays of light.
trace half circle pattern on 2-sided 7gypsies paper.
trim and fold as indicated in template.
color edges with aged mahogany ink.
glue sides to form an origami tree.
attache to front of card with glue - the tip of tree top against the rays of light.
stamp merry christmas message on off-white colour cardstock.
trim and edge with aged mahogany ink.
attach to bottom of origami tree with double sided foam tape.
attach star embellishment to top of tree with strong glue.
That's it!  An origami christmas tree card for a very merry christmas greeting for any family member or friend. Use a different print scrapbooking paper or add glitters and other embellishment for a different look.
Folded Tree Christmas Card
by Beverly Robinson (Maine)

Note: The above card was inspired by Beverly Robinson's folded tree Christmas card below.
Beverly said, "This card was made from a free pattern I got online."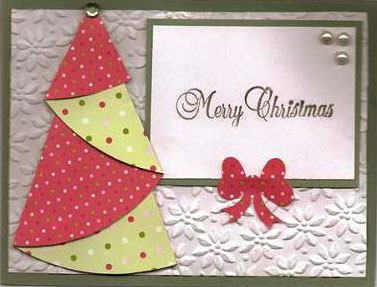 ---
Like This Site?
Celebrating Creativity! Connecting Lives!
~ bringing cheer one card at a time.
Help Me Get The Word Out

If you like making greeting cards and want to encourage others to do so because of its many benefits, please help me share this website with your friends. Just click on the share buttons below to share with your fans and friends. Thank you for sharing the good things in life :-)