Valerie's Christmas Cards
Vals Christmas Cards
Vals Christmas cards are cute and friendly with ribbons, smiling snowman and Christmas gifts. 
These are some of the many handmade cards by Valerie Smith, created with much love and care for family and friends.
The above red and green Christmas card was handmade by my friend, Val whom I have not met face to face but we've been friend for a long time on Facebook.

I first got to know Valerie via a Yahoo group I founded and Valerie helped to moderate. 

Val and her husband Ted sent me warm winter wishes all the way from Canada. When I opened the envelope, I was overjoyed to be greeted by this beautiful poinsettia design card. I love the colours used and especially the textured background colour. Thank you, Val and Ted for remembering me this Christmas. Wishing both of you a safe and healthy 2021.
Sadly, this will be the last Christmas greeting card from them as Valerie passed away in her sleep in March 2021 followed shortly by her beloved husband, Ted Smith.
Rest in Peace, Valerie and Ted!
Here's an introduction by Valerie Smith herself.
Valerie: I have been making cards for about 4-5 years now and send them to all my family and friends, was born and raised in British Columbia, Canada and am married to a wonderful man.

Have a look at the 3 beautiful handmade Christmas greeting cards by Valerie.  The first two are snowman cards and the last is a Christmas card that has red ribbon tied around a rounded corner square.
To view more handmade cards by Valerie, just scroll to the bottom of page and click on the relevant links.
Vals Christmas Cards - Happy Snowman
Snowman Card: Watermark blue card created by stamping snow flake with Versamark ink. Snowman stamped on white card and coloured with colour pencils then layered over blue watermarked card.

Friendly Snowman Christmas Card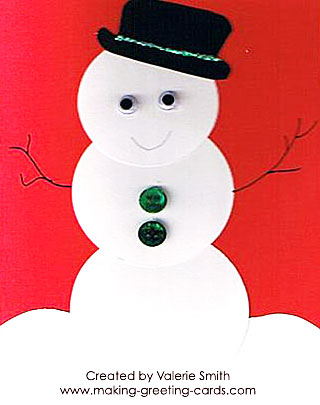 Friendly Snowman Card : This snowman looks so real and oh... so friendly indeed; just like he's bending forward to speak to us. White circle card-stocks overlapping to form snowman with the two branches drawn in for the arms. Additional touches are the black hat with green string, green buttons and the button eyes. A friendly snowman that any kid will love to play with.


If you enjoy these handmade Christmas cards by Valerie Smith and like to view her other cards, just click on the relevant links at the bottom of this page.

Homemade Red Christmas Card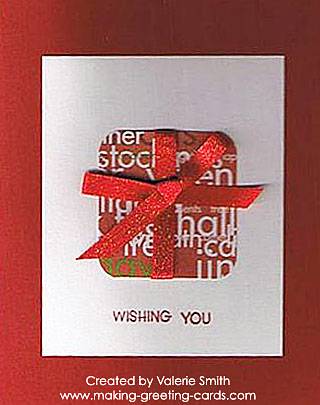 Another one of Vals Christmas cards -  The dark red decorated rounded corner square tied with the ribbon is layered onto white card with the words WISHING YOU stamped on it at the bottom. This is then layered over a dark red blank card. Beautiful!

When there's more handmade Christmas cards by Valerie Smith, (in short, I named this page,  'Vals Christmas cards' for easy reference) and she sent in more of her cards, I will add them to this page. So look out or bookmark this page if you are friends of Valerie or love her card making style.
If you want to add your handmade cards and would like to have a page dedicated to all your handmade greeting cards just like Vals Christmas cards,  let me know and I will get one page like this up for you.
Other Homemade Cards by Valerie Smith
---
Like This Site?
Celebrating Creativity! Connecting Lives!
~ bringing cheer one card at a time.
Help Me Get The Word Out

If you like making greeting cards and want to encourage others to do so because of its many benefits, please help me share this website with your friends. Just click on the share buttons below to share with your fans and friends. Thank you for sharing the good things in life :-)