Vals Thank You Cards
Vals Thank You cards are some of the handmade Thank You Cards by the late Valerie Smith.
Please note that this is one of the many pages of Valerie's handmade greeting cards. You can view more handmade cards by Valerie Smith just by scrolling to the bottom of page and click on the relevant links.

Valerie made this sweet paper card with pink strips and green pocket. She handstamped a pot of flowers with the words THANK YOU on white cardstock. Trimmed and insert this into the green pocket.
Note: You can view a bigger version of the following handmade Thank You cards by Valerie Smith. Just place your curser on the image and click. A new window will open with the bigger image. When finished viewing, just close the window and come back here to view the other cards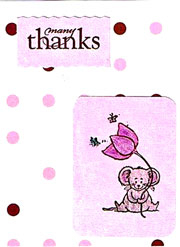 Many Thanks
Rubber stamps, polka dots and the message "Many Thanks" make up this beautiful homemade card - one of the two thank you cards by Valerie Smith.
More Handmade Cards by Valerie
---
Like This Site?
Celebrating Creativity! Connecting Lives!
~ bringing cheer one card at a time.
Help Me Get The Word Out

If you like making greeting cards and want to encourage others to do so because of its many benefits, please help me share this website with your friends. Just click on the share buttons below to share with your fans and friends. Thank you for sharing the good things in life :-)
Top of Vals Thank You Cards