Faux Vintage Christmas Tag
Faux Vintage Christmas Tag
- a rustic holiday tag on PEACE

| | | |
| --- | --- | --- |
| Vintage Christmas tag on the theme of PEACE. It's actually a faux vintage - meaning that it's not truly vintage but rather made to look like one. | | Click on any of the images below to view gallery.. |
I created this rustic holiday tag using kraft cardstock, rubber stamping and Tim Holtz's distress ink.
Faux Vintage Tag - PEACE Christmas Tag - scroll below for a look at the completed tag.
My most cherished possessions are my grandma's letters and my vintage Martha Washington cookbook.  - Sandra Lee
I love the look of old things. And many a time, will try to recreate something that looks aged. Creating old things can be very forgiving. Made a mistake and you could cover it up with distressing, crumbling or tearing the part off. Well, it's old and anything old does has wear and tears. :-)
This Christmas tag started with a tag die I have for some time but haven't use. It's an AccuCut™ die - T1123L | Gift Tag #4.
I was thinking that I wanted to make something other than a card. So was looking around in my craft room looking for some ideas. And spotted the shelf of Accucut dies in a corner of my room. Went through the dies and found this. Yes, why not make a Christmas tag with this die and some kraft cardstock - a faux vintage Christmas tag. The measurement for this tag is width 3" and length 5".
So here's the card making tools and supplies used including the detailed instructions below.
Card Making Tools & Supplies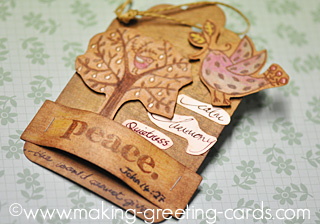 The above peace tag was a fun project done in an afternoon. Words were handwritten on scraps with fine black marker.
Supplies for making this Faux Vintage Christmas Tag
AccuCut™ tag die
kraft cardstock
versafine - vintage sepia inkpad
memento - rich cocoa inkpad
distress ink - old paper
distress ink - tea dye
creative cafe clear stamp - peace
stampers anonymous - tim holtz collection -slight alterations CMS060
penny black - in a pear tree
prismacolor pencils
white marker
calligraphy pen
calligraphy ink - brown
white card stock
Inkssentials™ ink blending tool and foam
acrylic blocks
adhesive | glue
scissors
double-sided foam tape
jute twine
staple
Card Making Directions For Peace Tag
die cut tag using kraft card stock
cut a strip 3.5" x 0.80" from kraft card stock
ink tim holtz's slight alterations background stamp with cocoa inkpad and stamp on tag
ink same stamp with distress ink - tea dye and stamp on kraft strip and extra kraft card
ink pear tree stamp with cocoa ink and stamp on extra kraft card
ink bird with cocoa ink and stamp on extra kraft card
trim and color with prismacolor pencils
add accents on pears and birds with white marker
use ink blending tool and foam with vintage sepia ink to edge as well as stain tag, strip, bird and tree.
ink peace stamp with cocoa ink and stamp on kraft strip
write words: calm, harmony and quietness with caligraphy pen dipped in brown ink on white card
trim around words and stain and edge with ink blending tool and foam
use black marker to write John 14:27 just under the word peace on the right
write ... the world cannot give. on bottom of tag.
staple peace strip to bottom of tag (refer to photo above)
use double-sided foam tape to attach pear tree and bird to tag
glue words to tag
tie jute twine
Hope you like the idea of this faux vintage Christmas tag. Below is a Christmas card I made just a few days before I made this vintage Christmas tag. I used the same kraft cardstock and some of the card making supplies itemized above.
---
Like This Site?
Celebrating Creativity! Connecting Lives!
~ bringing cheer one card at a time.
Help Me Get The Word Out

If you like making greeting cards and want to encourage others to do so because of its many benefits, please help me share this website with your friends. Just click on the share buttons below to share with your fans and friends. Thank you for sharing the good things in life :-)