3 Work At Home Tips For A Successful Home Business
Start a work at home greeting card business and make it successful. It is important that you should know that when you begin this home based business, you are now a businessperson.
Therefore, there are certain issues that you need to take note.

As a businessperson responsible for a work at home business, you need the followings to make your greeting card business a success.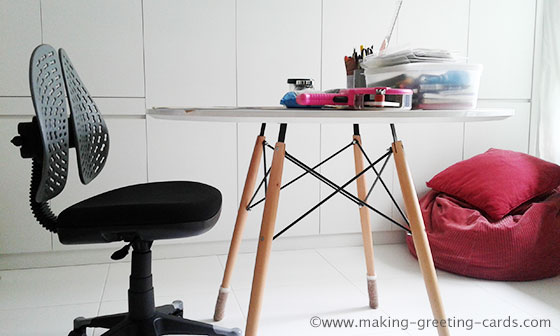 Work Table At Home
A Can Do Mindset
"The great successful men of the world have used their imagination...they think ahead and create their mental picture in all its details, filling in here, adding a little there, altering this a bit and that a bit, but steadily building - steadily building."

~ Robert Collier
Create a picture of what you want to be and work towards it. If you can perceive it in your mind, then you are able to work towards that image and create it in your life.
It's the same as making our cards. We have an idea of what we want the card to be - colour combination, texture, what kind of card, who is it for, design, what image on the front, focus point, etc. Then we sit down and make it as close as it is to what we have in our mind.
Same with your work at home greeting card business. Know where you are going. Plan and plan again and visualise the outcome in your mind. Dream about the success. Read motivational books. Read about people who are successful. These will give you a can do attitude that will carry you well in your greeting card business.
3 Useful Work At Home Tips For Success
1. Record Keeping
You will also need to keep records. Even if you hate paperworks, you still have to do them until you make enough to be able to hire someone else to do them for you.
Since this is a business and you have registered your business, you are eligible to deduct your certain business expenses when filing taxes.
So keep your expense receipts, organise them and enter them into a bookkeeping journal or a simple bookkeeping software like Quicken or MYOB.
2. Set Working Hours
If you are working a day job and want to do this as a part time business to supplement your income, you will need to consider sacrificing your other pleasures to work on your work at home greeting card business in your spare hours.
For example, if you decide to set aside 2 hours a day to do your home based greeting card business, you can do that early in the morning before you go to work or in the evening when you got home from work and your children are in bed.
Arrange your schedule and turn off the television, and make sure that you really work during those two hours.
3. Network With People
Go out and meet people. Present your business cards and make friends and enjoy yourself. You gain friends and widen your contacts and get you prospective clients for your card business. So network and build your contacts for your work at home business. Every meeting is an opportunity for networking to build your database of contacts. Some of these contacts will be your clients. Some might not be but will refer you to their friends.
Check Out These Other Business Articles
---
Like This Site?
Celebrating Creativity! Connecting Lives!
~ bringing cheer one card at a time.
Help Me Get The Word Out

If you like making greeting cards and want to encourage others to do so because of its many benefits, please help me share this website with your friends. Just click on the share buttons below to share with your fans and friends. Thank you for sharing the good things in life :-)