You're So Amazing Dad!
A Cricut Card Idea
So you have an amazing dad and wants to send him a Happy Father's Day card to tell him how amazing he is and how much you love and appreciate him for who he is.



The greatest gift 

I ever had, 

Came from GOD; 

I call him DAD!



Here's a simple Cricut project idea to inspire you to get started on your card for dad. This is actually my second card for Father's day using my Cricut Expression machine. For this project I used the Birthday Cakes and Ribbons & Rosettes cartridges. 
I like the fact that I can login to the Craft Room to choose my design since it's easier on my eyes. As I'm using a 27inch iMac, I can view the design on my monitor without straining my eyes and it's so much easier to align the various pieces before cutting so that I don't waste any card stock. All I have to do is insert the cartridge and stick the card stock onto the sticky mat.
Steps Taken To Make This Amazing Dad Card
First I cut out the word 'dad' using the font from the Birthday Cakes cartridge followed by the stars banner from the Ribbons & Rosettes cartridge on brown kraft cardstock.
Cut a piece of brown kraft card to 8 1/4" x  5 7/8".
Score and fold at the centre to make a 4 1/8" x 5 7/8" card.
Round the top right corner of card with a corner rounder.
Trim stars banner to 4 1/8" lengthwise.
Use Distress Ink - rusty hinge color - with dauber on front edges of card as well as on the word 'dad' and the stars banner.
Use Memento brown marker to edge the letters, banner as well as the card front.
Use the marker to draw stitches on the three sides of the card front.
Ink and stamp 'You're So Amazing' at the bottom right of the banner. ( You're So Amazing - stamp credit: Hero Arts)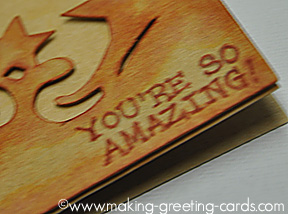 Attach 'dad' and banner to the front of card with double-sided foam tape for a raised effect. Overlap the letters to form the word 'dad'.
Cut two pieces of brown ribbon to about 3" long.
Fold and staple to the top right corner. (Refer to photo below.)
That's it! This You're So Amazing Dad card isn't perfect. Notice the crooked drawn stitches and the edges of each element. I drawn them in after I have assembled the card so it was not easy to pen those in. Also the stamped words were too faded so I wrote over them with the same brown marker.
But if I want to repeat this same design, I will do it as per the steps given above. And hopefully, the overall result will be neater.
Hope you like it. If you do or have any suggestion or advice, do comment below. I would love to hear what you think about this card or this site.
Scroll down and have a look at the other father's day cards on this cardmaking website. And if you're wondering how Father's Day came about, you can find out its origin below.
Various Father's Day Cards
Here are some other handmade cards for Father's Day created in the past years. Have a look!
Cricut's Happy Father's Day - Gone Fishing

This is a Cricut Fathers Day card - Gone Fishing - a free card project for Happy Father's Day which you can find in the Craft Room.

You're Special, Dad!

This is a very simple card using white card stock and a little stamped neck-tie.

Happy Father's Day Card

A tall card for father using stitching and embellished with a blush pink paper flower and ribbon.




Father's Day Poems/Quotes

Need a poem or  quote for your card or letter? I have collected a few poems and Father's quotes which might be meaningful to add to your Cricut Father's Day handmade cards.
Origin of Father's Day
Want to know how Father's Day came about? Here are the facts all about how it first started.
Like This Site?
Celebrating Creativity! Connecting Lives!
~ bringing cheer one card at a time.
Help Me Get The Word Out

If you like making greeting cards and want to encourage others to do so because of its many benefits, please help me share this website with your friends. Just click on the share buttons below to share with your fans and friends. Thank you for sharing the good things in life :-)
Top of You're So Amazing Dad Card