Unique Christmas Gift Card
to Complete Your Handmade Christmas Gift Wrapping

Below is a Christmas gift card which you can easily make in batches to complete your Christmas gifts.
Also some quick and simple tag design ideas with Christmas theme if you do not want to do a folded gift card.
Handmade Christmas Gift Card
Card Making Supplies Used for the Front of this Homemade Festive Gift Card
white cardstock (A4 or Letter size and 200gsm weight)
green and red color markers
trimmer or cutter
sponge
string
hole punch
christmas theme rubber stamp
red color inkpad
Card Making Instructions
Cut white sheet of card stock into half lengthwise.
Divide each of longer side into 3 and cut for both sheets.
Now you will have six pieces altogether.
Use a tool to score the middle of each card, crease and fold.
Ink rubber stamp with red and green markers.
Stamp onto the centre of your Christmas gift card.
Dab sponge on inkpad and sponge around the edge of the gft card front.
Punch a hole on the top left corner.
Tie string.
More Ideas for Christmas Tags, Gift Cards or Note Cards
Note cards, gift cards or gift tags, whatever you call these, you will need to have them for your festive gift wrapping. Why not make a stack of these of various designs and use them to go with your presents.
Below are a few more Christmas gift card and tag ideas.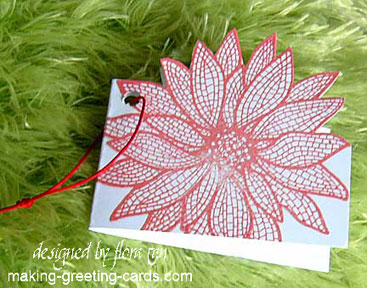 Poinsettia Gift Card
For this one directly above, just stamp with red ink, heat emboss with Christmas red colour embossing powder if you like, fold and trim back and front of card together around the top of the design.
The above snowman is the quickest card to make. Using a cute snowman rubber stamp and inked with permanent black ink ( I used a Memento ink pad), stamped on white card (the card stock used here is a name card size card), coloured nose with orange marker, punched a hole at top of tag and tie string.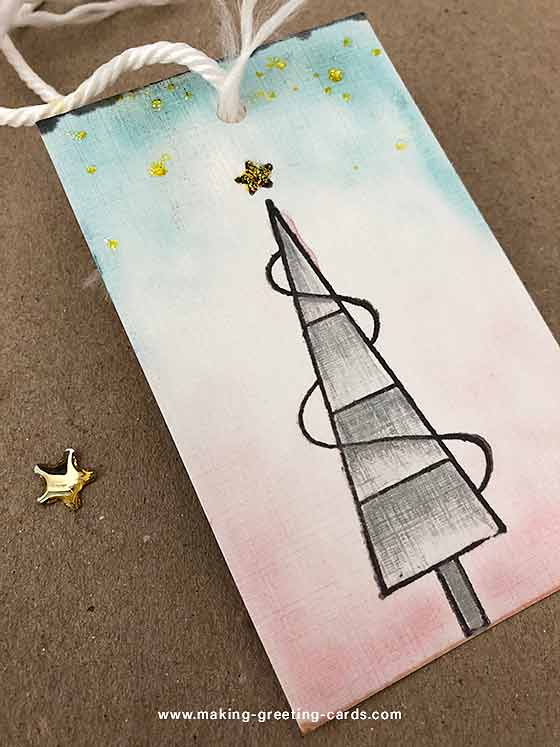 Silver Tree with Glittering Star
Above is another white tag stamped with a tree stamp and coloured in with silver coloured pencil and glitter glue applied on the star. For the background, pink and blue coloured chalks were rubbed around the tree at the edges mostly with a cotton bud.
Usually, I don't spend much time on these gift cards and tags as I have seem many times how the recipients discard the wrapping paper with the note cards after reading the note and the giver. But then of course, there are those who will treasure them and keep them as bookmarks or stick them onto the refrigerator with a magnet. :-)
---
Like This Site?
Celebrating Creativity! Connecting Lives!
~ bringing cheer one card at a time.
Help Me Get The Word Out

If you like making greeting cards and want to encourage others to do so because of its many benefits, please help me share this website with your friends. Just click on the share buttons below to share with your fans and friends. Thank you for sharing the good things in life :-)