Beautiful Rubber Stamped Cards by Barbara Phelps
Here's are some rubber stamped cards by Barbara Phelps. Yes, another page of great creations by Barbara Phelps from the United States. If you have enjoyed Barbara's other cards on the previous 5 pages, then I'm sure you will love these six lovely rubber stamped creations by her. 
Here are the six lovely rubber stamped cards by Barbara Phelps using rubber stamps and various other interesting materials.
Applique Card
Barbara : This is a scan of a card I did today. To make it, I cut a piece of white cardstock. I then took various colors of Liquid Applique which normally is used to create either a suede look or a puffy look. I simply squirted lines of Applique yellow, orange, teal, red onto the paper. I then took a paintbrush and brushed it in long strokes in just one direction which mushed the colors somewhat together.
Afterward, I took simple design rubber stamps -- a flower and a scroll -- dipped them first into Versamark clear ink, then firmly pressed the image into the wet Applique; I did not heat set the colors, I let them dry naturally and they dry not only brilliant but very shiny. 
Gibson Girl Card
Barbara : This card does not have much stamping, just the Gibson girl image. The rest is decorative paper, fabric lace, and stickers (above and below image as well as word "Timeless").
While it's difficult to see because of glare, the little embellishment to the right of the woman's face is an actual small watch face.

Peacock Feather Card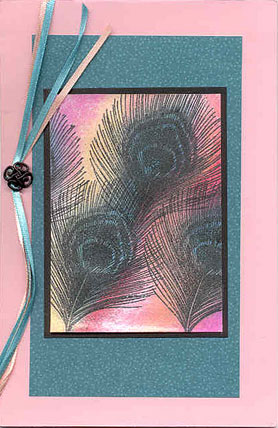 Stamped Feather
Barbara : For this card, I started out with a soft pastel pink cardstock base.
I added the turquoise decorative paper, then black glossy to frame the image. I had a rubber stamp with a single peacock feather image on it. I stamped the image in pigment ink four times, embossed in black powder.
I created the background by using a stippling brush and Radiant Pearls and stippled right over the embossed images. I then added three strips of thin ribbon and a black ornate button.

Rubber Stamped Cards By Barbara Phelps: Horses Card
Barbara : This rubber stamp happens to be my all-time favorite...such power and grace.
To create it, I used a dark brown cardstock for the base, put shelf liner on top of it, and swiped a few colors of dye ink across the liner to color it.
Next, I glued on some rust-colored paper. I stamped the three horse image onto light-colored cardstock, tore the edges and swiped a dark brown dye ink over the torn edges.
The coloring of the horses was done by stippling dye inks on the image. I was looking to create the colors around and on the horses of sunrise.
I then just added rawhide strips and a buckle-type embellishment.

Oriental Bamboo Card
Barbara : I started out with soft yellow wheat cardstock, and added a crimped mustard paper on top.
Then I used masking tape, tore it into pieces and put it on cardstock in a random fashion.
I then swiped a dark yellow dye ink across the tape to give it some color.
The bamboo stalks were stamped, embossed, and colored with Radiant Pearls, and matted on glossy black paper. I added the Oriental coin for embellishment

Grapes Tag Card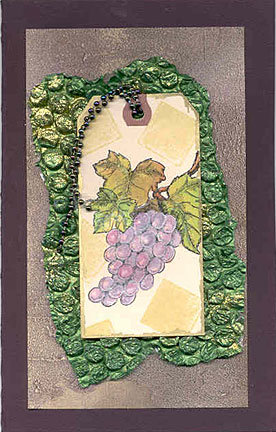 Rubber Stamped Tag
Barbara : My base was a burgundy wine-colored cardstock, upon which I did some layering.
First with a rustic greyish-soft lavender paper, then the bubble wrap which I first painted with metallic green acrylic paint, and while it was still wet I sprinkled gold metallic glitter on it.
I then added the stamped image of grapes on a tag, colored the image with Radiant Pearls and added the multi-colored beads.

More of Barbara Phelps' Cards
I am sure that you enjoyed viewing these rubber stamped cards by Barbara Phelps. If so, you are in for a treat, here are more...
---
Making Greeting Cards!

›
Readers Cards
› Rubber Stamping by Barbara Phelps
Like This Site?
Celebrating Creativity! Connecting Lives!
~ bringing cheer one card at a time.
Help Me Get The Word Out

If you like making greeting cards and want to encourage others to do so because of its many benefits, please help me share this website with your friends. Just click on the share buttons below to share with your fans and friends. Thank you for sharing the good things in life :-)