Greeting Cards Templates 03
Greeting Cards Templates 03
- 3rd page of free card templates to download
Greeting cards templates 03: Same like the others, these free card templates are all created in Adobe Photoshop and Pagemaker and later converted to PDF files.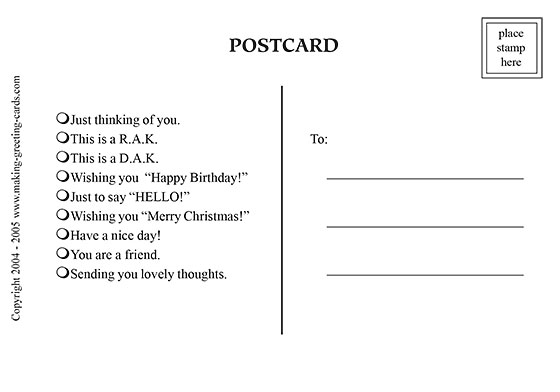 Note: Please do not copy and upload this greeting cards templates to your websites or any group's websites. You can link to this page or forward this page to a friend or your groups freely. These templates are for you to personally download onto your computer and use freely on your cards.
Thank you for your cooperation. Just that I have spent many nights working on these templates.
Enjoy!:~D

Just click on any of the links below to view and print directly.
To print them you need to have Adobe Reader version 5 or above on your computer. Get Adobe Reader.
Greeting Cards Templates 03
Origami Christmas Tree Card Template
An origami Christmas tree that you can paste onto the front of a card and add a glittered star and other embellishments to make your handmade Christmas greeting card one-of-a-kind.
Refer to Origami Christmas Tree Card for instructions on using this template. 
---
Origami Valentine Card Template

This Origami Valentine Template is actually an origami heart mailer. You can also use this template for other occasion card.
All you need to do is decorate the areas that make up the heart with relevant clip-arts. It's a 12"x12" template. You can use scrapbooking paper. If not, just adjust your printer to print on an A4 size paper and unclick the "Choose paper source by PDF page size" or something like that in your print page.
Refer to Origami Valentines Cards for instructions. 
---
Will print 4 postcards in a A4 sized sheet of cardstock. A original postcard template.
Refer to Christmas Post Cards - a post card challenge for some ideas. 
---
Postcard With Message Template

Will print 4 postcards in a A4 sized sheet of cardstock. A postcard with pre-printed messages in the message side of postcard.
More Free Card Template Pages
Greeting Cards Templates 01 - Chinese Postcard template, circle template, circle with eight segments template, Artist Trading Card template including an envelope template.
---
Making Greeting Cards!

›
Free Templates
› Here
Like This Site?
Celebrating Creativity! Connecting Lives!
~ bringing cheer one card at a time.
Help Me Get The Word Out

If you like making greeting cards and want to encourage others to do so because of its many benefits, please help me share this website with your friends. Just click on the share buttons below to share with your fans and friends. Thank you for sharing the good things in life :-)